Alba Gonzalez-Nylander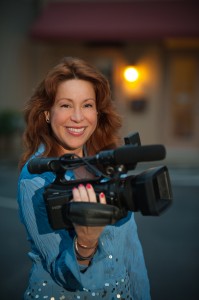 Alba is a creative, knowledgeable Broadcast Television Professional, Videographer and Editor. TV Production always had been a part of Alba's life. Born in Caracas, Venezuela. It was there a strong work ethic and emphasis on preparedness was instilled in her this lead to a Scholarship to finish her B.A in engineering and production TV in Los Angeles, CA
As a professional Alba has served as a key technical engineer for such well-known enterprises as Qualcomm, FOX Sports, KTLA, KCAL, CBS, TNN, E!, Univision, and other prestigious broadcasters; Alba brings over 20 years of experience in television technical direction, camera work, video production and editing. She has performed effective services for television show production, companies and emerging consumer product brands.
Alba's work has been honored with many achievements. Awards include winner of national contests; the 2009 Sam's Club/The United States Hispanic Chamber of Commerce "Como Si: Doing Business Today for Tomorrow", and in 2010 Office Depot's "Adopt a Small Business" video contest. Awarded in 2010 the Anna Maria Arias-Latina Style Magazine Woman Entrepreneur of the Year and The Hispanic Professional Achievement Award from the Nashville Area Hispanic Chamber of Commerce. 
Alba is currently a Managing Partner with Jennifer Fritz in AJ Media Services LLC, a Franklin, TN-based video and online multimedia production firm which provides editing and online multimedia production solutions through use a state-of-the-art, and turnkey video production systems.
Currently serves as:
Board Member NAHCC
Board Member Community Childcare Center
Board Member of Citizens' Police Academy CPA Class of 2012
Minority Business Enterprise Input Committee
WNPT's Community Advisory Board (CAB)
Member of Nashville Chapter – FBI National Citizens Academy Alumni. Class of 2012
Member of Nashville Cable
Member of One Williamson One Chamber