Notice: Trying to access array offset on value of type bool in /var/www/wp-content/themes/enfold/framework/php/function-set-avia-frontend.php on line 536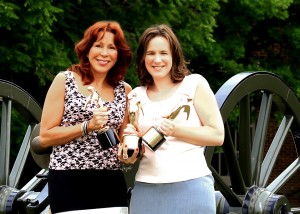 For the third year in a row, AJ Media Services LLC has received the high honor of winning a Bronze Telly Award for their Recruiting video produced for Columbus, Ohio Division of Police.
This award represents AJ Media's passion to work with municipalities and government agencies. With nearly 11,000 entries from all 50 states and numerous countries, this is truly an honor.
"Feliz (happy) with this award for the third consecutive year, we would like to send our thanks to the Telly award judges for this recognition of our work," said Alba Gonzalez-Nylander, managing partner, AJ Media Services, LLC.
The Telly Awards were founded in 1979, and stand as the premier award honoring outstanding local, regional, and cable TV commercials and programs, the finest video and film productions, online commercials, videos and films. Winners represent the best work of the most respected advertising agencies, production companies, television stations, cable operators, and corporate video departments in the world.
A prestigious judging panel of over 500 accomplished industry professionals, each a past winner of a Silver Telly and a member of The Silver Telly Council, judges the competition, upholding the historical standard of excellence that Telly represents.
About the Columbus Ohio Police Department:
The Columbus Division of Police is the main policing unit for the city of Columbus, Ohio. It is the largest police department in the state of Ohio, and among the 25 largest in the United States. It is composed of 20 precincts, and the Chief of Police is Kimberley Jacobs. Special units of the Columbus Division of Police include a Helicopter Unit, Canine Unit, Mounted Unit, Bicycle Patrol Teams, Marine Park Unit, Police NET Operations Unit, and a Computer Forensics Unit.
Their Mission statement reads; "We are in service with the purpose to protect, with the passion to persevere, and with the utmost pride in our performance."
About AJ Media Services LLC:
AJ Media Services LLC provides professional video services to corporations, government agencies, municipalities, non-profits, and small businesses. The company is owned and operated by Alba Gonzalez-Nylander and Jennifer Fritz; both degreed professionals in video production. Together they bring their bilingual skills, market presence and ever-increasing product offerings to every project, achieving the individual goals of each client. Alba is a creative, knowledgeable broadcast television professional, videographer and editor who brings over 20 years of experience in television technical direction, camera work, video production and editing. Jennifer brings 15 years of experience in technical production, script writing, photography, and directing to the company.
History of the Company:
Alba and Jennifer joined forces in 2010 by forming AJ Media Services to create a dynamic company, stretching far beyond what was possible alone. AJ Media is certified as DWOBE, MOB, WOB, DBE & SBE. As our slogan states, "We are the mirror of your Creation"."
"Being recognized by the Telly Awards validates our hard work, and we are especially proud of this year's award as we love working with municipal departments that serve the public and make a difference in local communities", Jennifer Fritz, Managing Partner, AJ Media Services LLC.
By achieving Telly Award recognition for their work, AJ Media Services is looking forward to continued growth and creating more empowering video for their clients.
To find out more about:
The Telly Awards www.tellyawards.com
See Video Here: https://ajmediaservices.com/?p=1354
AJ Media Services LLC 100 Confederate Dr. Franklin, TN 37064 – www.ajmediaservices.com (615) 794-0761
https://ajmediaservices.com/wp-content/uploads/2016/06/AJ-Media-Services_Logo_2016RGB_EMAIL-300x78.jpg
0
0
AJMedia
https://ajmediaservices.com/wp-content/uploads/2016/06/AJ-Media-Services_Logo_2016RGB_EMAIL-300x78.jpg
AJMedia
2015-07-17 18:37:05
2021-03-02 00:35:55
AJ Media Services LLC Wins 36th annual Telly Award